RISMedia's Pop-a-Note Webinar

The recent launch of Pop-a-Note, RISMedia's conversational marketing system, is generating quite a buzz in the industry! Several sold-out webinars throughout July and August were followed by many taking immediate advantage of a 10% special webinar discount on this already incredibly affordable and exciting auto-drip marketing system from RISMedia.
For those unable to attend, we have posted a recording of one of the recent webinars right here for you to view. For those interested in purchasing following a review of this recording, a discount code will be offered at the end of the webinar.


What is Pop-a-Note?
Pop-A-Note is an auto-drip email campaign that sends professionally written, fully editable pop culture content and/or valuable real estate business related tips to keep you engaged with your SOI. Notes can be sent automatically or manually at your convenience to your database to generate responses, create discussions, and reach your entire database... personally, professionally and affordably! Choose your desired frequency, and subject category, and let Pop-A-Note do the rest! Links in the notes lead your contacts to your own personal "News Hub" for additional information and engagement!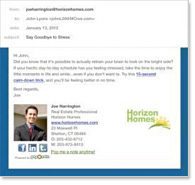 "I'm amazed at how many clients respond to the notes. I've had several of them email me back, commenting on the subject or thanking me. It's nice that the system just sends them out for me, so I don't even have to think about it," said Robyn Burdett, an agent with RE/MAX Allegiance in Fairfax, VA. "It is definitely helping me stay connected. This month, I hadn't even realized it had gone out and all off a sudden I was getting emails back from people thanking me. It has given me a different level of connection than I had had before, it's helping me enter client's lives on a much more personal level.."

We appreciate your continued readership and look forward to your joining us to learn more about Pop-a-Note!
For more information, contact support.


~~~

Webinar System Requirements
PC-based attendees
Required: Windows® 7, Vista, XP or 2003 Server

Macintosh®-based attendees
Required: Mac OS® X 10.5 or newer